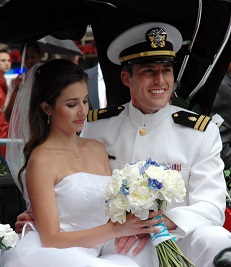 The Commonwealth of Virginia is home to nearly 130,000 active duty military service members, and like the civilian population, when troops suffer marital problems, divorce is sometimes the only option. Legally, divorce among military personnel is similar to a civilian divorce. However, if you are a military service member or a military spouse, there will be additional factors that may affect your separation and divorce.
Military Marriage Statistics
According to the U.S. Department of Defense, the military's divorce rate has dropped consistently over the last several years, and in 2014 it reached its lowest rate since 2005. In 2014, only 3.1% of enlisted service members and officers became divorced. This declining rate is thought to be largely due to a major drop in the divorce rate among female service members. The largest decline was seen among married females in the Marines, as the rate moved from 9.5% during 2011 to only 6.2% during 2014.
Common Problems in Military Divorce
Children and money are the big issues with any divorce, but when the military lifestyle is involved, these issues can become even more pronounced in the divorce of service members. There are a variety of stressors within military life that can contribute to divorce:
Long deployments and frequent moves. Lengthy military deployments have shown to increase the divorce risk for enlisted U.S. service members.
Communication difficulties. When a spouse is overseas or away at training for an extended period
of time, communication difficulties can be a major stressor on a relationship.
Frequent separations. Military life typically means a lot of time apart for young couples, especially
within the early years of a military career. For many couples, it can be difficult to find a healthy
balance of family time in order to form a solid relationship foundation.
Long work hours. Most military service members are required to work late hours or train in the
field for extended periods of time. This can hinder time with your family and your spouse.
Likewise, many military couples have young children at home, which can cause additional stress on a marriage. In many cases, the non-military spouse is underemployed or unemployed. This can mean that the service member will be responsible for paying spousal support after a divorce.
Special Divorce Procedures
A military divorce in Virginia can be filed using the same grounds as a civilian divorce. However, military divorces will involve unique issues that civilian divorces will not include, and for this reason, specific federal and state laws will apply.
Serving a Military Spouse on Active Duty
An active duty spouse will need to be personally served with a summons and a copy of the complaint for divorce in a divorce action in order for the Virginia court system to have jurisdiction over the service member. If a divorce case is uncontested, the active duty spouse will not need to be served if he or she files an acceptance of service of process, by which he or she acknowledges the divorce action and the right to formal service.
Residency Issues
In some divorces in Virginia, residency issues sometime come into place. Many service members are curious as to whether they can file for divorce in Virginia if they are in the military and one of the spouses doesn't currently live in the state. Virginia divorce cases are applicable if either party resides in and is a resident of the Commonwealth of Virginia at the time of the divorce filing and has been a resident for at least six months. This is true of service members that are residing on or stationed at a base in Virginia, even if they claim residence, for military purposes, in another state.
Property Division
State laws determine much of the division of property in Virginia military divorces. However, the Uniformed Services Former Spouses' Protection Act, a federal law, governs how military retirement benefits are divided and calculated in the event of a divorce, and it authorizes the direct payment of a share of a military retiree's pension to an ex-spouse.
Spousal and Child Support
In Virginia, both spousal and child support awards must not exceed 60% of the service member's pay and allowances. Otherwise, Virginia law and, with child support, the Virginia Child Support Guidelines will be applied in determining the proper amount to be paid.