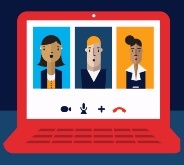 What can a married couple who wants to split during the coronavirus pandemic do? Hire a northern Virginia divorce mediator for online mediation.
Online divorce mediation can be a great option for couples who want to proceed with a divorce despite the obstacles presented by COVID-19. There are even some advantages that are unrelated to the pandemic.
Social Distancing is Inherent in the Process.
To avoid catching COVID-19, the Virginia Department of Health and other authorities advise staying at least six feet from other people and limiting the time you spend with people with whom you do not live.
Since online divorce mediation is conducted remotely, however, this is not an issue. The mediators are in one location and the spouses are in another. The spouses themselves don't even need to be in the same place.
Saves Time and Money.
Scheduling an in-person mediation session can be challenging. Not only do you have to find time for the mediation session, but you have to factor in time to get to the mediation session. Anyone who has driven in Fairfax County or elsewhere in Northern Virginia knows traffic can be painful. Even driving short distances can take a long time. In some locations, such as Arlington and Tysons Corner, finding a parking place can exacerbate things further.
With online mediation, these issues disappear. You simply need to schedule the time required for the actual mediation session and have online access in a private location. Additionally, you'll miss less work and parenting time and other things you'd prefer to be doing and spend less on childcare.
Comfort.
With online divorce mediation, you get to determine the environment from where you participate in meetings. Whatever surroundings feel comfortable, safe, and productive to you are fine. At Kales & Kales, we've had clients participate in mediation sessions from their homes, offices, porches, cars, etc. and at desks or tables on the one hand and on couches or beds on the other.
Geography Is Irrelevant.
What if your soon to ex-spouse has moved from Northern Virginia or travels for work? With online mediation, geography isn't a barrier to engaging a divorce mediation attorney to help you reach a divorce settlement agreement. The spouses can be anywhere if each has a computer, Zoom, and a secure Wi-Fi connection.
Distance Can Balance Negotiations.
When divorcing spouses are in the same room, it's easier for them to push each other's buttons, interrupt, and/or bully one another than it is online, where the distance that is part and parcel of the process can somewhat shield from spouses falling into the bad dynamics of their marriage. Additionally, in a virtual meeting, the connection can only pick up and convey one spouse talking at a time.
Documents Can Be Shared and Reviewed Quickly.
Zoom's document sharing feature allows the mediators and spouses to go over documents together, with all meeting participants viewing the same page at the same time, which can help with efficiency and therefore lower fees and even quicken divorces.
Online Divorce Mediations Can Move Forward When Courts Are Experiencing Backlogs Due to COVID-19
Courts throughout Virginia, including Fairfax and Arlington, have had closings and delays due to the coronavirus. With the pandemic worsening in recent weeks, many Northern Virginia divorce attorneys anticipate the possibility of further disruptions. With this predicament, online mediation can step in and help to move cases forward, particularly those cases where the conflict level isn't terribly high and perhaps didn't require litigation in the first place.